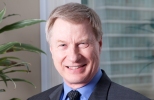 Gary D. Powroznik, FCA, CIRP, LIT is the Founder and Managing Director of G-Force Group.
Gary was a partner of PricewaterhouseCoopers LLP for 27 years and founded its Real Estate Advisory and Transactions Services (REATS) group in British Columbia. He was the President of PricewaterhouseCoopers Real Estate Inc., formerly a licensed brokerage company, and led the insolvency practice for Coopers & Lybrand in Vancouver during most of the 1980s. Gary has over 30 years of experience assisting companies, lenders, shareholders, First Nations and governments in maximizing their operating results and asset values, often through restructuring, and/or sale of assets and operations.
Gary was the Managing Partner for PricewaterhouseCoopers LLP in British Columbia for thirteen years. He has served on the Executive Committee and Partnership Board for the Canadian firm and has participated on international Firm committees and projects. Gary left PwC in 2008 to form the G-Force Group, which includes G-Force Real Estate Inc., which acquired the REATS practice from PwC, G-Force Advisors Inc. and G. Powroznik Group Inc., federally licensed as a Licensed Insolvency Trustee.
Please refer to Gary Powroznik's full resume attached here.